Continuing Education
February 5, 2022 at 8:30 AM to February 6, 2022 at 4:30 PM
Pricing
| | |
| --- | --- |
| Member | $400.00 |
| Non-Member | $600.00 |
| Staff/Auxiliary | $500.00 |
| Resident/New Dentist | $475.00 |
General Information
| | |
| --- | --- |
| Provider | New York State AGD Learning Center |
| Speaker | Dr. Robert Convissar & Joyce Pye Funston, RN, IBCLC, RLC |
| Type/Category | Participation |
| Credits | 14 MCE |
Empire State Spring MasterTrack Program
"Neonatal and Pediatric Tongue Tie: Comprehensive Assessment and Treatment"
Dates: Saturday, February 5 and Sunday, February 6, 2022
Location: NYSAGD Learning Center
1902 Whitestone Expressway, Suite 204
Whitestone, NY 11357
Lecture 8:30 am to 4:30 pm
14 MCE Participation Credit Hours - Course Code: 430
Participants will receive up to 34 MCE participation credit hours towards mastership
Upon completion of their presentation at a date to be announced
This program is open to all dentists including pre-fellows as credit is applied towards Mastership
About the Speakers:
Dr. Robert Convissar is a pioneer in the field of laser dentistry. One of the first dentists in the world to incorporate lasers into general practice he has over 32 years of experience with CO2, Diode, Erbium, and Nd.YAG wavelengths. He has authored over fifteen peer-reviewed papers and 7 laser textbooks. An international lecturer from New York to London to Sydney to Tokyo to Dubai, and everywhere in between, he has delivered close to 400 Laser Certification and Laser Tongue Tie Certification courses worldwide. He practices laser-assisted dentistry in New York City. He is the only dentist in the world to have the triad of awards:
Diplomate of the American Board of Laser Surgery

Fellow of the American Society of Laser Medicine and Surgery

Master of the Academy of Laser Dentistry
As well as being a Fellow of the Academy of General Dentistry. His seminal textbook Principles and Practice of Laser Dentistry, now in its 2nd edition, has been the standard textbook on laser dentistry for over a decade – translated into Spanish, Portuguese, Russian, and Chinese. He is the co-author of Color Atlas of Tongue Tie and Lip Tie Laser Frenectomy – the first textbook in the world on the subject.
Joyce Pye Funston, RN, IBCLC, RLC: Owner/founder/CEO / Chief IBCLC of Joyful Start LC , a multi-discipline lactation support practice in Charlottesville, Virginia. Joy developed enthusiasm about breastfeeding over the span of her hospital based Registered Nurse career, 27 years bedside in Pediatric & Newborn intensive care units. She consistently saw the advantage breast milk gave her young patients. She gained her IBCLC credential during the infancy of that profession late 1980s. Since transitioning to private practice Joy observed that >80% of the moms who seek her care are in fact challenged by the functional symptoms of tethered oral tissue. This observation led Joy to join with other Ankyloglossia professionals, as a member of The International Affiliation of Tongue Tie Professionals (IATP). Joy was one of the speakers of IATP's 2017 Denver summit. She also contributes to IATP as a member of their Board of Directors. In fall 2019 Joy was a Keynote speaker at the European La Leche League Summit in Paris.
Course Benefits/Highlights:
This course includes a board certified lactation consultant, who plays a critical role during tongue tie release.
In this combination lecture and hands-on course, attendees will be introduced to the concept of laser frenectomies, an increasingly popular method by which dentists and physicians can treat tongue and lip ties in their patients. 5% or more of the babies born in the United States have such tight oral restrictions, tongue-ties and other frenum pulls, that they cannot successfully latch on to either breast or bottle to feed. For the baby serious consequences may develop, including failure to maintain adequate weight goals, even leading to the serious diagnosis of "failure to thrive". For the mother baby's lack of oral functionality may result in sore or damaged nipples and breast inflammation, even to mastitis or abscesses. Failure to meet breastfeeding goals is the proven leading cause of maternal post-partum depression.
The first most critical step in proper treatment is a complete assessment. Diagnosis of a tongue- tie is much more than just an examination to determine if an anatomical stricture is present. A complete functional assessment of tongue movement is mandatory in order to arrive at the correct diagnosis, and a correct treatment plan.
Though many practitioners may be able to evaluate if an anatomical stricture is indeed present, few are trained in the PEEL Technique ®. This technique insures that the 4 functional movements the tongue must make in order to feed successfully are evaluated and treated:
Peristalsis
Elevation
Extension
Lateralization
This participation course will teach the complete medical and dental team how to:
Accumulate all of the required data via history intake forms

Perform a clinical examination to evaluate both anatomy and function in order to arrive at the correct diagnosis

Evaluate when a release should be done

Perform the procedure using laser technology

Inform the family about the techniques and critical importance of aftercare, in order to have the most successful outcome
Network with lactation consultants, pediatricians, neonatologists, craniosacral therapists, chiropractors, and the rest of the medical team

Grow your practice of neonatal dentistry
Hands-On:
The HANDS-ON portion of the program will be performed on tissue samples and pig jaws and includes:
Laser incising in Micropulse Mode with focused laser beam

Deep high-power incisions vs shallow low-power incisions

Laser coagulation and hemostasis with defocused laser beam

Laser Incising under tissue tension

Laser Tongue Tie Release simulation

Laser Buccal Tie release simulation

Laser Vestibuloplasty simulation

Laser Biopsy simulation

Simulated laser operculectomy, fibroma excision, gingivectomy, etc.

Superficial laser ablation of epithelium

Superficial laser heating of epithelium

Simulated laser treatment of ulcerous lesions
This course is recommended for:
1) General dentists, periodontists, oral surgeons, and pediatric dentists
2) Pediatricians, family practitioners, neonatologists, obstetricians
3) Chiropractors & Osteopaths
4) Certified Nurse Midwives & Ped Nurse Practitioners
5) Speech and Language Pathologists & Ped Occupational Therapists
6) IBCLC's (International Board Certified Lactation Consultants)
At the conclusion of the course, participants will:
Be able to diagnose anterior and posterior tongue ties
Understand the criteria for treating tongue and lip ties

Know the advantages of the PEEL Technique ® over other techniques

Understand which laser wavelengths are most appropriate for performing tongue and lip tie releases
(Price includes breakfast. lunch, materials and case presentation session in 6 months)
The Empire State Mastership Track is a "Protocol" program that complies with the standards and guidelines of AGD's Council on Dental Education. In order to receive full participation credit the participant will be required to do a case presentation based on an in-office procedure that reflects the material taught by the instructor. The fee for this program includes the case presentation session, held approximately 6 months after the initial meeting. This program is open to all dentists including pre-fellows as credit is applied towards Mastership.
The New York State constituent of the Academy of General Dentistry is an approved PACE provider. The sponsor's formal CDE programs are acceptable by the AGD for Fellowship, Mastership and maintenance credit. Approval does not imply acceptance by a state of provincial board of dentistry. The current term of approval extends from 1/01/21 to 12/31/22. AGD Code#219318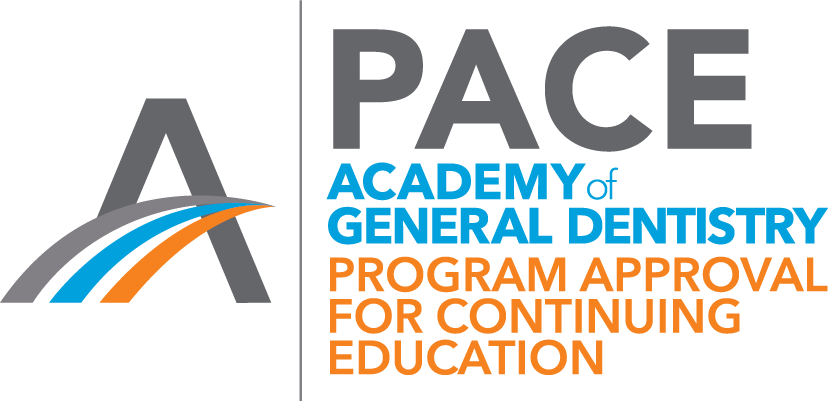 Cancellation Policy - If your cancellation is at least 48 hours in advance of the class, you will receive a full refund. If your cancellation is less than 48 hours in advance, we will not be able to issue a refund.